Veneers for Teeth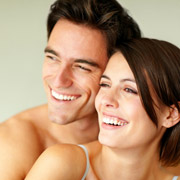 Patients who suffer from common dental flaws can visit our dentist to discuss their candidacy to get veneers for teeth. With this treatment, our dentist can permanently conceal problems involving structural damage, discoloration and malformation of teeth. Because veneers add thickness to the teeth when they are applied, they also strengthen treated teeth. The versatility of veneers makes them one of the mainstays of modern cosmetic dentistry, and their application can in many cases take the place of multiple alternative treatments.

Signs that Veneers May Be a Solution
Patients may benefit from veneers if they have any of several types of dental imperfections. Heavy discoloration stemming from internal tooth decay does not respond to whitening treatments, but it can often be concealed permanently with veneers. When physical trauma chips or cracks teeth, veneers can hide the damage and splint those teeth to protect against further deterioration. By concealing gaps and improper tooth rotation, veneers can also be used instead of braces for some patients.

How Veneers Are Placed
Patients who seek veneers for teeth enhancement can expect at least two appointments for placement by our dentist. In the first appointment, our dentist will take dental impressions for use in creating the veneers, prepare the teeth and place temporary veneers for protection. At the following appointment, our dentist will analyze the new veneers for correct fit, apply them to the teeth and bond them in place permanently with dental resin.
Most adults are candidates for this cosmetic treatment, which is minimally invasive and virtually painless. However, patients who need major restorative treatment may need to wait until after those procedures are finished before they can receive veneers. To learn more about what can be achieved by veneers for teeth, what options are available and how candidacy is determined, patients can contact our dentist and schedule a consultation.