Dental Cleaning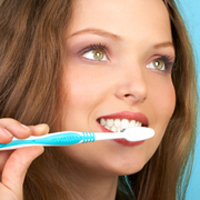 Professional dental cleanings are essential for maintaining good dental health. Our Los Angeles dental cleaning expert recommends that most patients have their teeth cleaned at least every six months.


Good dental hygiene involves brushing twice daily or after meals and flossing daily. This keeps plaque and bacteria under better control. Plaque and bacteria build up on your teeth every day and can irritate your gums. The acidic byproducts of the bacteria can also decay your teeth. Brushing and flossing can decrease your risk of cavities and gum disease. When plaque is not thoroughly removed, it can harden into tartar, a mineralized substance that can only be removed by a professional cleaning. Our expert in dental cleaning in Los Angeles will use special tools to remove the tartar and then thoroughly clean your teeth.

Dental Cleaning Los Angeles
Our Los Angeles dental cleaning expert may then make recommendations that can help you keep your teeth cleaner and healthier. We can help you make any necessary adjustments in your daily dental hygiene routine or suggest preventative treatments that can help you take a more proactive approach towards your dental health. Dental sealants can be applied to the surfaces of your molars to protect the hard-to-clean pits and fissures from plaque, bacteria and other debris. Professional fluoride treatments can help strengthen your enamel and may be particularly helpful if you do not drink tap water or if you live in an area that does not fluoridate its water supply.


We will finish your professional cleaning by polishing away superficial stains and checking for any signs of dental health problems. Our expert in dental cleaning in Los Angeles may make treatment recommendations or help you design a treatment plan to optimize your dental health.


Contact our dental office today to schedule your next cleaning with our Los Angeles dentist.