Dental Bridges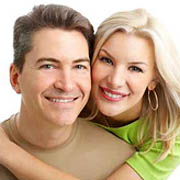 Tooth loss is an extremely common problem, and most American adults have lost at least one tooth by the time they reach 35. Several tooth restoration options are available today. Dental bridges are a common choice for many patients. Our Los Angeles dental bridges specialist can help you determine if you are a candidate.


Candidates for dental bridges include:
• Those who are missing one or more teeth
• Have healthy teeth adjacent to the gap
• Enjoy good dental health
Our specialist for dental bridges in Los Angeles can often place dental bridges in just a few dental visits. We will evaluate various aspects of your smile at your initial visit. The color, shape and size of your teeth will be noted, and your teeth will be prepared for your new dental bridge. A dental bridge consists of a prosthetic tooth attached to two porcelain crowns that are placed on the adjacent teeth, or abutment teeth.


If the abutment teeth are damaged or decayed, we may recommend a root canal treatment to reduce the risk of complications. Our Los Angeles dental bridges specialist will then trim and contour the abutment teeth to allow for the placement of your new crowns. Dental impressions will be taken so that the laboratory can craft your new restoration.

Dental Bridges Los Angeles
We will fit a temporary bridge over your teeth to provide you with an immediate restoration and to protect your newly prepared teeth. When your bridge is ready, you will return to our office so that our specialist for dental bridges in Los Angeles can place it. We will check the fit and color of your bridge, and then we will bond it securely to your abutment teeth.


Dental bridges can last seven years or longer when well maintained. Brush your teeth twice daily to remove plaque, and floss every day to clean between your teeth. A floss threader can help you floss above and around your dental bridge.


Contact our Los Angeles dentist today to learn more or to schedule your consultation.