Inlays and Onlays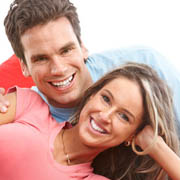 Teeth that have suffered from serious damage or decay may need more extensive restoration treatments than traditional dental fillings. Indirect fillings are one option that can help preserve your natural tooth. Our Los Angeles onlays and inlays expert can help you determine if indirect fillings are right for you.

Dental Inlays Los Angeles
Our expert for inlays and onlays in Los Angeles can use dental inlays to fit inside the cusps of damaged teeth. A dental inlay is made of composite resin, porcelain or gold and fits inside the visible part of the tooth to prevent further decay. They can be helpful for treating small molar cavities that tend to develop in the pits and fissures of the tooth and can allow dangerous bacteria to reach the root of the tooth, which usually results in the need for a root canal treatment or even the loss of the tooth.

Dental Onlays Los Angeles
Similar to dental inlays, dental onlays are also considered indirect fillings but are designed to cover extensive areas of the tooth. Our expert for onlays and inlays in Los Angeles will customize the onlay to fit the surface of your tooth exactly and will be bonded and polished to fit your tooth precisely.


Both types of indirect fillings require two appointments. At your first visit with our Los Angeles inlays and onlays dentist, we will remove any old or worn restorations that are present and take dental impressions, images or other measurements to create the new inlay or onlay. At the second appointment, we will place the inlay or onlay, bond it into place and polish it to match your teeth.


Contact our dentist in Los Angeles today to schedule your consultation and to find out if inlays or onlays may be right for you.