Full and Partial Dentures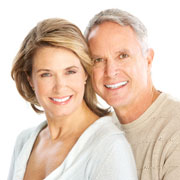 As teeth wear down, decay, break or loosen as a result of severe periodontal disease, patients are left with gaps in their smiles or completely toothless smiles. Restoring the lost teeth is not just a matter of restoring dental health but can also restore your ability to eat, speak and smile with comfort, confidence and beauty. If you have lost some or all of your teeth, our dentist in Los Angeles can help.

Full Dentures Los Angeles
Today's dentures are extremely discreet. When fit and crafted properly, most people will never know you are wearing them. Our Los Angeles full dentures specialist will use advanced imaging techniques and dental impressions to custom-mold your new smile for a flawless fit that enhances your overall appearance.


If you are a candidate for dentures, our specialist for full dentures in Los Angeles will explain your options and prepare a treatment plan. If you have any teeth that must be extracted, your gum tissue may need to heal before we can place your dentures. Although dentures are generally designed to be held in place with a proper fit, they may also be used with dental implants, which can support healthy bone density.

Partial Dentures Los Angeles
Teeth are precious, but if an accident, injury, decay or gum disease results in one or more lost teeth, partial dentures can be one of the easiest ways to restore your smile and your oral health. Our Los Angeles partial dentures expert can use partial dentures to restore your smile when you are missing only some of your teeth.


Partial dentures can restore a natural looking smile and bite. They allow you to chew naturally, smile beautifully and speak confidently. Today's partial dentures require little maintenance and look just like real teeth.


Do not let missing teeth rob you of your smile. Contact our expert in partial dentures in Los Angeles today to schedule your consultation.