Tooth Colored Dental Fillings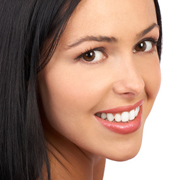 A dental filling is a restoration that is used to restore the function, health and appearance of a tooth that has been damaged by dental decay. Several types of filling materials are available today, but one of the most popular is the tooth colored dental filling. Our Los Angeles tooth colored dental fillings specialist can help you determine if you are a candidate for the procedure.


In the past, most cavities were filled with amalgam, which is a mixture of mercury, tin and other metals. Placing an amalgam filling requires retention grooves, which means that healthy tooth structure must be removed. Every time an amalgam filling is replaced, more tooth structure will be removed, which can ultimately weaken the entire structure. Tooth colored fillings are different. They are made of composite resin, which is a special mixture of glass and plastic, and they bond chemically with the tooth, which means there is no need for retention grooves. Our specialist for white dental fillings in Los Angeles can use white fillings to treat dental decay anywhere in the mouth.

Tooth Colored Dental Fillings Los Angeles
Our Los Angeles white dental fillings expert will begin by numbing the area and then removing the decayed area. The area will need to be entirely isolated and kept clean and dry as the composite resin is placed. This material can be made to precisely match your own natural teeth. Once the resin is placed, our expert in tooth colored dental fillings in Los Angeles will cure it with a special light and polish it to match your other teeth.


Tooth colored dental fillings can last up to a decade when properly maintained, and they can allow you to subtly and attractively treat areas of decay without the need for telltale silver fillings. Contact our dental office to learn more or to schedule your next checkup with our cosmetic dentist in Los Angeles.