Dental Implants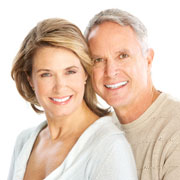 Most Americans over the age of 35 are missing at least one tooth. Tooth loss is often related to trauma, periodontal disease or severe tooth decay. Once a tooth is lost, the function, health and appearance of your smile is at risk. Even if the tooth is at the back of your mouth, your smile aesthetics could be affected. Your other teeth may shift out of position and become difficult to keep clean. You may struggle to eat comfortably and find yourself limiting your diet in order to accommodate your missing tooth. Our Los Angeles dental implants specialist can help.


Dental implants have revolutionized tooth replacement. These titanium screws can be used to support prosthetic teeth that look, feel and act just like your own teeth. You will be able to eat, speak and smile with confidence, and the contours of your face can be preserved. If you are a candidate for dental implants, our expert in dental implants in Los Angeles will place the posts into your jawbone where the teeth are missing. Your jawbone will gradually grow around the post in a process known as osseointegration. Once the jawbone has healed, our Los Angeles dental implants specialist will attach abutments, which will be used to support your new teeth.

Dental Implants Los Angeles
Dental implants are so similar to your own teeth, you may even forget you have them. A major benefit of dental implants is that they preserve bone health. When a tooth is lost, the bone tissue begins to resorb, or dissolve, around the site of the lost tooth. Because our expert for dental implants in Los Angeles can use dental implants to replace not just the visible portion of the tooth but also the root, they prevent this bone loss. Dental implants also have an extremely high success rate, and more than 90 percent are still going strong 15 years after placement. Our Los Angeles dental implants specialist can help you determine if dental implants are right for you.


Contact our Los Angeles dentist to learn more or to schedule your appointment.