Veneers Before and After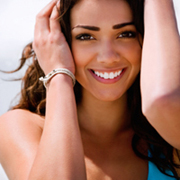 Cosmetic dentistry offers several valuable options for patients with unsightly teeth, but veneers may be the most widely used treatment in this category. Whether teeth are heavily discolored or affected by structural abnormalities, such as cracks, chips, gaps or improper rotation, our dentist can use veneers to restore dental appearance for a better-looking smile. Veneers before and after pictures, which clearly display the improvements obtained by successful patients, are valuable resources for patients who are exploring this option for themselves.

Advantages Visible in Pictures
Patients who have benefited from veneers provide examples of how useful veneers can be. With veneers before and after photos, other patients can examine the degree of these improvements in addition to reading about them. Photos make the enhancements come to life, extending evidence of newly beautiful smiles for all to see. Indeed, the aesthetic improvements offered by veneers are often amazing for those who are just starting to research this treatment. In looking at many images, viewers can also better understand how teeth covered by veneers are more structurally sound and better protected from damage after placement.

Are Veneers the Right Choice?
Reading about the advantages of veneers is enough to convince many patients that this treatment may solve their cosmetic dental issues. However, photos can work wonders for building the confidence necessary to visit our dentist for this procedure. With the availability of veneers before and after images, prospective veneer recipients can more easily decide whether veneers are the right option to pursue. Although no two patients are exactly alike in their requirements, veneers work well for a wide range of issues, and this fact is evident in many before and after pictures. By scheduling a consultation with our cosmetic dentist, patients can start to explore the possibility of achieving the smile of their dreams through veneers placement.