Toothache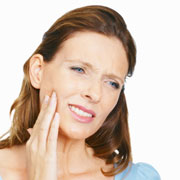 A toothache is something that many people experience, but that does not mean they are pleasant by any stretch of the imagination. Our Los Angeles toothache treatment expert will be able to work with you to get to the bottom of a toothache. Through a number of treatment methods, we will be able to eliminate the pain and set you on the path to a pain-free dental experience.
Different types of toothache can be caused by different reasons. For example, if you are drinking cold liquids and all of a sudden experience toothache, you likely have an issue caused by minor sensitivity. Sensitivity in a tooth can be caused by an exposed root, a small fracture in the tooth, decay, or even enamel that has gotten too thin. Dental work can also cause minor sensitivity in the teeth. If you have recently had dental work done, that is likely the culprit of your pain. All of these are easily fixed by our expert in toothache in Los Angeles.
Sharp pain when chewing is also a common complaint to our Los Angeles toothache treatment expert. More often than not, this type of pain is caused by decay, a tooth that is cracked, or a loose filling. We will be able to take a look at the tooth that is painful and make a plan of treatment. You may need a filling, a root canal, or other treatment in order to stop the pain.
Lingering pain in the tooth is also possible and will often indicate an infection of the root. In this case, you will need a root canal as the tissue in the root of the tooth is dead or dying. Our expert in toothache in Los Angeles can take care of this too, saving your teeth and stopping the pain with root canal therapy.
Anytime you have a pain in the tooth, it is important to see a dentist for treatment. If allowed to go on without treatment, the pain could become worse. The sooner you can get into to see our dentist, the faster the pain will go away.
Back to Articles