Teeth Veneers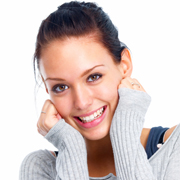 Teeth veneers are among the most versatile cosmetic treatments available. As thin shells that are bonded to the front of teeth, veneers can be used to permanently conceal imperfections such as stains, chips, gaps and improper rotation. In addition to their cosmetic value, veneers offer restorative benefits and can be used in place of orthodontics in certain cases.

Cosmetic Improvements
Veneers give patients fast, minimally invasive concealment of tooth flaws involving color, structure and position. Where whitening treatments have failed to eliminate heavy stains, such as those originating inside the tooth, veneers often work. Unsightly chips and gaps also respond to veneer placement. When multiple flaws are present, veneers can be placed in order to conceal all of them at once.

Restorative Care
Tooth veneers can help restore and support cracked or weakened teeth. Once the porcelain shell of the veneer is bonded to the tooth, it acts as a splint to hold the tooth together. In addition, teeth covered with veneers are shielded from food particles and bacteria that cause tooth decay.

Alternative to Orthodontics
Because teeth veneers are useful for concealing problems that are commonly corrected by orthodontics, veneers can actually take the place of braces in situations where crooked teeth do not cause functional or health-related problems. Both gaps and improperly rotated teeth can be concealed with veneers, giving patients the chance to avoid spending more money and time on orthodontic treatment.


Veneers are translucent and tinted to match natural teeth, ensuring that patients can show off a brilliant smile after having them placed. By brushing and flossing daily and visiting our dentist for check-ups at least twice each year, patients can help their tooth veneers look good for longer. Schedule a consultation with our dentist to discover how veneers may help you and your teeth.