Teeth Lumineers Cost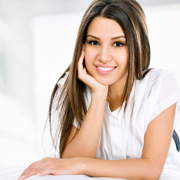 Lumineers offer concealment of cosmetic dental flaws and can last for as long as 20 years. Thinner than traditional veneers and constructed by Cerinate using special porcelain, Lumineers require no enamel removal for most patients. Treated teeth stay strong as a result, and patients can later have their Lumineers removed if it becomes desirable or necessary. Problems that Lumineers can conceal include chips, gaps, cracks, internal tooth stains and improper rotation. Here is more about the benefits included in the teeth Lumineers cost and what affects the total.

Benefits and Price Factors
Like conventional dental veneers, Lumineers are a cosmetic treatment aimed at permanently concealing flaws. Unlike other veneers, however, Lumineers are thinner, reducing or eliminating the need for enamel removal. In addition to preserving tooth strength and easing placement, this gives patients the option of having their Lumineers removed later if they want to do so. The teeth Lumineers cost is based on factors such as the sizes and number of Lumineers needed and the presence of any physical features that complicate placement.

Placement of Lumineers
Lumineers require two visits for placement by our dentist. In the first visit, our dentist takes dental impressions of the teeth for use in Lumineers construction. The second visit, often scheduled a few weeks after the first, is used to place the Lumineers on the teeth. During the procedure, our dentist etches the teeth slightly before placing the Lumineers individually. Finally, our dentist confirms that the Lumineers fit properly and will not interfere with chewing or speaking.


Patients who invest in Lumineers can enjoy decades of better smiles with proper care, including daily brushing and flossing and biannual checkups. To learn more about factors that determine teeth Lumineers cost and to find out whether Lumineers can successfully conceal specific flaws, patients can schedule a consultation with our dentist.