Sensitive Teeth and Teeth Whitening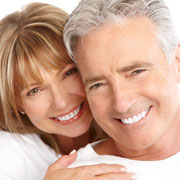 Due to its relative ease and effectiveness, many patients are turning toward professional teeth whitening treatments to get a brighter smile. Teeth will naturally darken over time, but the process can be accelerated by drinking excessive amounts of wine, coffee, tea, and soda or by using tobacco products. But certain aspects of your smile need to be taken into consideration before beginning treatment with our expert in teeth whitening in Los Angeles. If you regularly experience sensitive teeth, make sure to inform your dentist.
Professional in-office whitening treatments are often much safer than over-the-counter products. Many tooth bleaching strips and gels are available at most pharmacies, but you need to follow the instructions carefully or else you could end up seriously damaging your teeth. However, prior to getting an in-office treatment, you will need to undergo a comprehensive oral health evaluation to make sure nothing else is wrong with your smile.
Tooth sensitivity can sometimes be a symptom of tooth decay or gum disease. Teeth whitening is a cosmetic treatment; it will not help for any actual health concerns. So if there are any underlying problems with your dental health, those problems will need to be addressed first before continuing with your whitening treatment. Some patients report that a side effect of teeth whitening is temporary sensitive teeth. This sensation will only last a day or two, and after that, it will go away. Your dentist takes special precautions to ensure your comfort and safety throughout any dental procedure.
Back to Blog