Mouth Ache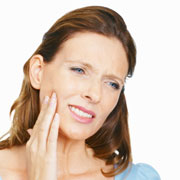 If you experience any unexplained pain anywhere on your body, you should get it looked at by a professional rather than trying to diagnose and treat it on your own. A mouth ache can be the result of any number of problems, so schedule a visit to our expert in treatment of mouth ache in Los Angeles at the first sign of trouble. A lot of people have a bad habit of putting off getting medical treatment until the condition has greatly worsened. At this point, the pain will need to be dealt with more invasive and expensive surgery. But if detected early, the pain can be more easily treated.
The reason for an ache in your mouth can be completely benign. You may have bitten your tongue while you were asleep and did not realize it until the next day. However, most of the time, aches need to be looked at by our Los Angeles mouth ache treatment expert to determine the exact cause. A severe ache can stem from a tooth that has a cavity, which can be remedied with a dental filling. If the pulp in a tooth has become infected, you may start feeling the pain in your tooth and jaw, and it will need to be treated with a root canal.
However, mouth aches can also be a sign of something more serious. It could be a symptom of diabetes, food allergies, or oral cancer. You cannot treat any of these illnesses on your own, so it is imperative that you see our expert in treatment of mouth ache in Los Angeles who can pinpoint the exact problem and recommend the proper surgery or medication.
You can expect our Los Angeles mouth ache treatment expert to ask you numerous questions during your appointment, including how long you have been experiencing pain, where in the mouth the pain is located, have you had any dental work done recently, and do you currently have any diagnosed conditions that could be causing this pain. Our dentist may not be able to visually see the problem, so an X-ray may need to be performed.
Pain should never be a "wait and see" issue. Schedule a consultation with our dentist to determine why you are in pain.
Back to Articles