Lumineers Teeth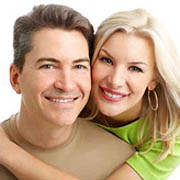 For more than three decades, Lumineers have been used to improve the smiles of dental patients. In addition to their use in permanently concealing issues such as stains, chips and cracks, Lumineers can sometimes be used as alternatives to orthodontics for patients with teeth that are crooked or improperly spaced. Because Lumineers are thinner than traditional porcelain veneers, they leave tooth structure intact and can be removed later if patients desire.

How Lumineers Compare to Traditional Veneers
Like traditional veneers, Lumineers are tooth-colored and bonded to the fronts of teeth. However, Lumineers are different in a number of ways in addition to being thinner. For example, they are translucent to make results look more natural. Lumineers also offer superior durability, helping them stand up to normal wear and last for up to two decades.

Placement of Lumineers
Our dentist performs the Lumineers teeth procedure in two appointments after an initial consultation to determine candidacy and treatment options. At the first appointment, our dentist creates dental impressions of teeth to be used in the construction of the Lumineers at an authorized lab. The second visit is used to check the teeth for fit, etch the teeth and bond the Lumineers in place.

Lumineers Eligibility
As a minimally invasive procedure, Lumineers teeth treatment is an option for most healthy patients. Lumineers can be ideal for patients whose teeth have unsightly structural flaws, poor positioning or heavy discoloration that cannot be eliminated with whitening treatments. At a consultation with our dentist, patients can learn more about the types of problems Lumineers are most effective at concealing.


Lumineers teeth care is a fast and easy way to get a smile worth showing off. Because the procedure is virtually painless and sensitivity is never an issue afterwards, patients can count on avoiding lifestyle disruption and staying comfortable throughout the process.