Lumineers Cost per Tooth
L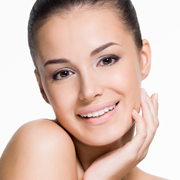 umineers are a newer option for patients who are interested in the benefits of dental veneers. With Lumineers, patients gain the same concealment associated with traditional veneers but avoid the downfalls related to thickness. The thinness of Lumineers means that they ease placement by minimizing the need for enamel removal. Here is more about the benefits of Lumineers, the process of placement and factors affecting the Lumineers cost per tooth.
Benefits of Lumineers for Cosmetic Dental Patients
Lumineers offer fast, long-term concealment of structural and superficial dental flaws. These include cracks, chips and stains. However, Lumineers can also sometimes be used in place of orthodontics for teeth that are rotated or spaced unevenly. This can be ideal for flaws that affect appearance but do not harm health or functionality. Although Lumineers work well for concealing many stains that are not successfully eliminated by whitening treatment, traditional veneers are better for the heaviest discoloration because they are thicker, and therefore more opaque, than Lumineers.
Lumineers Placement
Patients must consult with our cosmetic dentist before having Lumineers placed. After candidacy is confirmed and a treatment plan is established, our dentist can determine the Lumineers cost per tooth. This can vary according to several factors, but the amount of laboratory crafting necessary for the patient is one factor to consider. After making dental impressions and having the Lumineers made, our dentist can bond them to the teeth in a single, pain-free appointment.
With the long-term improvements in appearance and confidence enjoyed by Lumineers patients, the Lumineers cost per tooth can easily be justified in most cases. Although Lumineers are an option for most healthy adults, a consultation with our cosmetic dentist is necessary to confirm candidacy. Patients can help their Lumineers look good for longer by brushing and flossing each day and getting dental check-ups every six months.