Link Between Poor Oral Health and Dementia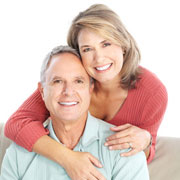 Dementia affects almost 3.5 million Americans, including about 15 percent of those over 70 and almost 40 percent of people over the age of 90. Impaired memory and cognitive decline are common associated problems, and it can lead to significant disability. A recent study has linked poor dental health with dementia.
In the study, researchers from the University of California found that people who rarely brush their teeth are 65 percent more likely to develop dementia than those who brush the recommended two or more times a day. Those with poor brushing habits have more oral bacteria found in their brains, which can trigger inflammation. Previous studies have found that cavities and gum disease can play a major role in dementia, and another study linked tooth loss to a higher risk of cognitive decline.
While good dental hygiene alone may not be enough to protect you from dementia, it is an easily managed risk factor. Brushing at least twice a day keeps oral bacteria levels under control. A soft-bristled brush and fluoride toothpaste should be used to carefully clean all surfaces of each tooth, and then floss between each set of teeth to clean any remaining plaque. Regular checkups are vital for monitoring your dental health.
If you are a caretaker for someone with dementia, help him or her brush and floss his or her teeth twice a day, and schedule frequent checkups for him or her to catch early signs of problems. Call us today to learn more or to schedule an appointment with our expert in dental exam in Los Angeles.
Back to Blog