Jaw Ache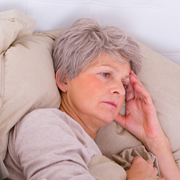 A jaw ache can occur suddenly or build up over time, and if you experience any pain or difficulty eating, talking, or just opening your mouth, you should seek a diagnosis from our expert in treatment of jaw ache in Los Angeles. One of the most common reasons for jaw pain is an issue with the temporomandibular joint (TMJ). The condition that causes this pain is also referred to as TMJ. Your temporomandibular joint is immediately in front of your ear on each side of your head. Muscles, tendons, and ligaments surround this joint, and TMJ can be caused by any excessive wear or injury to the joint.
TMJ most often occurs due to teeth grinding, otherwise known as bruxism. Most people grind their teeth due to stress, but it can also be the result of other factors. If you are aware that you grind your teeth, you should talk to our Los Angeles jaw ache treatment expert about getting a mouth guard you can wear at night. Mouth guards can significantly reduce the impact of bruxism on your teeth, and a guard can be custom-made to perfectly fit over your teeth.
However, an extreme jaw ache can also be caused by other diseases. If the pulp in one or more of your teeth has become infected, it could start affecting the jaw. In this case, a root canal will need to be performed by our expert in treatment of jaw ache in Los Angeles. If you regularly use tobacco and you experience a numbness and pain in your jaw, this could be a sign of jaw cancer. If you feel a lock jaw sensation and you have difficulty opening and closing your mouth, it could be a symptom of tetanus.
Jaw pain is not always a sign of problems with the mouth. If you experience jaw pain along with pain in the chest, shoulder, or arm with sweating and shortness of breath, you could be having a heart attack, and you need to seek medical care immediately.
Whether your jaw ache is mild or severe, you should get it looked at by our Los Angeles jaw ache treatment expert so that the underlying problem can be detected and treated early.
Back to Articles