Invisalign Retainer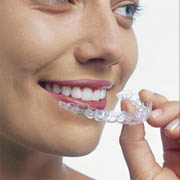 If you are considering straightening your teeth, there is a new modern approach. Instead of braces, patients are now starting to choose Invisalign. This straightening system comes with many advantages, including the look and overall comfort. The trays used to correct imperfections in your teeth are basically invisible.


The Invisalign retainer is a completely customized plastic tray for you to wear over your teeth. Much like braces, it will slowly and gently straighten your teeth overtime but with comfort. With braces, the orthodontist must tighten them frequently which can cause soreness and discomfort. With the almost invisible trays, you can rest assured that it will be pain free. They are replaced every two weeks.

Invisalign Retainer Los Angeles
First, you need to have a consultation with our Invisalign retainer expert to make sure you are a good candidate for the procedure. A 3-D image of your teeth is taken so our doctor can see the movements of your teeth and map out a specific plan for you. Our doctor will show you your teeth as they change in stages while you use the trays. You will receive your custom made trays constructed to the treatment plan our doctor created for you. You need to wear them 20-22 hours a day. Replace the Invisalign retainer every two weeks as your teeth shift.


Most adult patients will wear the Invisalign retainer for about a year. Teens can expect to wear them a bit longer. But the advantage to wearing these almost invisible trays is that you can see your progress a lot sooner than if you were wearing braces. The retainers correct a wide variety of dental problems including overbites, under bites, crooked teeth, alignment issues, protruding teeth and more. They also can correct gapped and overly crowded teeth. Patients do not have to worry about pain during this year of movement. It is a gentle process that allows you to be comfortable and live your active lifestyle all while improving your smile.