Invisalign Express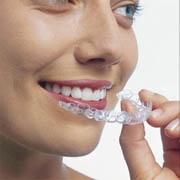 If you have minor dental problems that you would like straightened out without going through the pain of braces, there is a more comfortable treatment option. Imagine a treatment option that is invisible to others, comfortable in your mouth and gives you the freedom to do the things you love. This gives you the same results as traditional braces but without the hassle.


Invisalign Express is a fast way of straightening your teeth. It consists of plastic retainers that go right over your teeth. Our orthodontist will customize these retainers just for you. This five-stage process is very convenient and most patients only have them on for about a year. The best part is that you can eat whatever you want because the trays are removable. Most patients with minor dental problems will avoid braces because of the pain, the daunting process and the financial burden. This is a new affordable option that gives you comfort and freedom.
Here is how the Invisalign express way works:


• A consultation to see if you are a candidate for Invisalign
• Once approved, our doctor will customize your retainers specifically to your treatment plan
• You receive series of five aligner sets to be replaced every two weeks
• Visit our doctor every four to six weeks to track your progress


Invisalign Express Los Angeles
Patients who have used Invisalign say that it is convenient, affordable and the best option for someone with a busy lifestyle. Some call it the Invisalign express way because of how quick the process is to treat these dental problems: overbite, under bite, gaps, spacing, protruding teeth and more. There is also an option for teens so they do not have to bear the pain and discomfort of traditional braces at school. Whether you are an adult or a teen, this option allows you the flexibility and convenience to do everything you love without a hassle.