Invisalign Doctor Los Angeles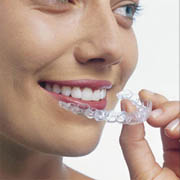 Patients who want straighter teeth without dealing with metal braces can visit our Los Angeles Invisalign doctor. By choosing Invisalign, patients can look and feel better while their teeth are being corrected. Modern Invisalign methods are capable of correcting nearly all types of malocclusion, and most adult patients are candidates.


Invisalign offers nearly invisible orthodontic treatment, and most patients seek it for this reason. However, Invisalign offers several other important benefits over metal braces. For example, a lack of brackets means that patients never have to suffer with the abrasion that often marks treatment with metal braces. It also prevents accumulation of food and bacteria that can cause decay. Because patients can remove the aligners, they can avoid breakage during rough activities and can eat, brush and floss with ease.

Los Angeles Invisalign Doctor
Patients who choose our Los Angeles Invisalign doctor can count on easier treatment than if they had chosen metal braces. Most Invisalign patients need fewer appointments, and the visits that are necessary never involve wire tightening, which leaves patients with metal braces sore for days. Instead, appointments only involve checking progress and giving patients their next set of aligners. These advantages help make Invisalign more convenient for busy professionals.


Most adults with common malocclusions, such as underbite, overbite and crossbite, can benefit from Invisalign. However, the best treatment candidates are those who are generally healthy and not currently in need of significant restorative treatment. In every case, our Invisalign doctor in Los Angeles requires a personal consultation to discuss treatment goals and determine candidacy. When certain types of bite irregularities are present, such as those affecting jaw position, our doctor may recommend a combination of Invisalign with other orthodontics.


Our Invisalign doctor in Los Angeles offers virtually invisible correction of teeth that are spaced, positioned or rotated improperly. After looking good during treatment, patients enjoy a better-looking smile and improved functionality for life. Having straighter teeth also reduces risks of gum disease and tooth decay. To discuss Invisalign options and find out it may be an option, patients can contact our doctor for a consultation.