Invisalign Braces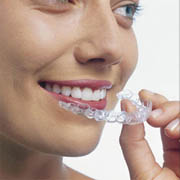 Straightening your teeth can be a long and uncomfortable process. But it does not have to be. There is another option available other than conventional braces. These old brackets can be uncomfortable and very painful, especially when tightened by the orthodontist. They do not allow for the freedom to eat what you want either.


With Invisalign braces, you can straighten your teeth with confidence and comfort. This system uses plastic (BPA free) retainers that go over your teeth. You can remove them whenever you want. The advantages are obvious. You can eat whatever you want. Just pop the trays back in when you are done. The trays are virtually invisible which means that they are unnoticeable to others and even to you in most cases.

Invisalign Braces Los Angeles
The process is quite simple if you are interested in choosing Invisalign braces. Talk to our doctor about your teeth. They will make sure you are a candidate for this treatment. If you are a candidate, our doctor will take a 3-D image of your teeth and map out the perfect plan for you. You will then receive a customized retainer for your teeth to be worn at least 20-22 hours a day. Throughout your treatment, you will need to replace your retainers about every two weeks as your teeth shift into place.


Even though your teeth are gently shifting, you will feel no pain with Invisalign braces. They should be worn for a period of one year. The best part is that you can visibly see your progress along the way because of the clear retainers. You will visit our doctor every four to six weeks to track your progress. Make sure to compare the differences between Invisalign braces and traditional braces.


There are many benefits if you choose the plastic retainers. This includes the freedom to eat whatever you want, the virtually invisible trays, comfort and confidence. Talk to our doctor about the financial options available to you as there might be a payment plan to choose from.