How to Keep Invisalign Aligners Clean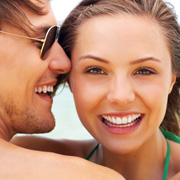 It used to be that the only way to correct a smile that suffered from overcrowding, gaps, overbite, underbite, or crossbite was through unsightly metal braces. Now many dentists offer Invisalign as a more discreet option to straighten your teeth. Our dentist in Los Angeles may recommend Invisalign to patients who want to correct any bite abnormalities or misalignments. Invisalign aligners use applied force to move certain teeth a little at a time in order to get them into the desired positions. In order to get the maximum benefit out of Invisalign, you will need to know how to properly care for your aligners.
A great benefit of Invisalign is that it is removable, so you can take it out during meals or while you brush your teeth. After you have eaten, make sure to brush your teeth thoroughly so food particles do not get on the inside of the aligners. You can clean your aligners using a special cleaning kit provided by our expert in Invisalign in Los Angeles, or you can simply brush and rinse them in lukewarm water. In order to get outstanding results in as little time as possible, make sure to take good care of your aligners.