How Much do Lumineers Cost?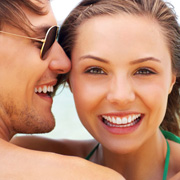 Lumineers can permanently conceal a variety of cosmetic dental imperfections while requiring less preparation than conventional porcelain veneers. As patients consider this treatment, they might wonder, "How much do Lumineers cost?" It is hard to put a price on having a flawless smile, but Lumineers offer excellent value to many patients who are candidates for the procedure.

Advantages of Lumineers
The thinness of Lumineers is the main feature that distinguishes them from conventional veneers. Unlike conventional veneers, which require significant removal of enamel from teeth that receive them, Lumineers can be placed with minimal preparation. Although Lumineers cannot always conceal heavy discoloration, they are effective at hiding most stains, as well as chips, cracks and improper sized, rotation and spacing of teeth. The need for less preparation means that Lumineers can be placed in fewer appointments, further increasing convenience for patients.

So, How Much Do Lumineers Cost?
The cost of getting Lumineers can vary based on individual factors as well as the size of Lumineers that patients need. In every case, Lumineers can be considered a lifetime investment if cared for properly. Researchers have already found that Lumineers can last for at least two decades. With daily brushing and flossing and biannual check-ups from our dentist, patients can keep their Lumineers looking good longer. Considering this durability, Lumineers easily justify their price in most cases.


Lumineers make the benefits of porcelain dental veneers more accessible to patients. Ease of preparation, fast placement and lack of necessity for temporary veneers between visits combine to make the price of Lumineers more worthwhile. How much do Lumineers cost? Prices vary between patients, but the cost in terms of time, convenience and long-term value is low compared to many alternative cosmetic treatments. Patients can contact our dentist to learn more about Lumineers and find out if they are eligible to receive them.