Dental Implants and Oral Hygiene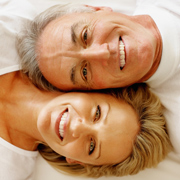 Dental implants are a very popular way of replacing missing teeth. The reason is that other tooth replacements only replace the visible portion of the tooth. But dental implants serve as artificial tooth roots that are implanted directly into the jawbone. A crown is placed over the implant, so the entire structure of the tooth is being replaced. Dental implants are a much more invasive procedure than other treatments, but as long as you take good care of your oral health, you can expect your implants to last a lifetime.
Certain side effects are common immediately after dental implant placement. You will most likely experience bleeding at the implant site for the first 24 hours. You can control this bleeding by biting on a gauze pad for 30 minutes at a time. Swelling is also very common, but you can control this by applying an ice pack to your cheeks. You should drink plenty of fluids during the recovery period, and you should avoid any foods or drinks that are overly hot or cold. It may also be a bit painful at first, so you can take pain relievers to manage it.
You should take antibiotics as prescribed to reduce the risk of an infection. After the recovery period, you can take care of your implant like you would your natural teeth. You should continue to brush and floss your teeth every day and maintain regular dental examinations twice a year. If you have any further questions about how to take care of a dental implants, consult your expert in dental implants in Los Angeles.
Back to Blog