Cost of Veneers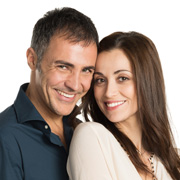 Patients who want to permanently hide dental imperfections can visit our dentist to have veneers placed. After being bonded to the fronts of teeth, dental veneers conceal structural and color-related flaws in addition to boosting tooth strength and protection against decay. Here is a deeper look at the benefits of veneers and an examination of what is involved in the cost of veneers.

How Veneers Benefit Patients
After our dentist places veneers for patients, their dental imperfections stay hidden for years to come. Cracks, chips, gaps and heavy stains can all be concealed this way. Teeth that are improperly rotated or poorly proportioned can also benefit from veneers, giving certain patients a less costly alternative to braces for cosmetic improvements. Also included in the cost of dental veneers is translucency that reproduces the look of real teeth. After patients receive veneers, they can keep their teeth looking good for longer by brushing and flossing every day and visiting our dentist at least twice each year for routine exams.

How Veneers Cost Is Determined
The price of veneers is based on a number of factors, including the type of veneers patients want, the size of veneers they need and whether there are any physical features present that may present obstacles during treatment. When patients need preparatory restorative or cosmetic care before their veneers are placed, the total cost of porcelain veneers is bound to rise. It is important to note, however, that with so many benefits gained in so little time, the cost of getting veneers is easily justified for many patients.


When our dentist places veneers, recipients are on track for a lifetime of attractive smiles and greater resistance to visible dental damage caused by tooth decay. As patients live their lives with brilliant smiles, they will appreciate the relatively minor cost of having had their veneers placed by our dentist. For more information on the factors involved in the cost of veneers, patients can call our office to schedule a consultation.