Composite Veneers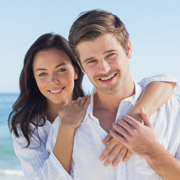 Dental veneers are among the most flexible cosmetic options that patients can choose when they visit our dentist. Today, patients who want faster aesthetic improvements at lower cost can opt for composite veneers. Veneers made of composite rather than porcelain offer many of the same benefits but are also different in certain ways. By considering the differences associated with this option, patients can more easily decide whether it will meet their treatment goals.

Understanding Veneers Made of Composite
Composite veneers are also known as direct veneers and work well for most of the issues corrected by porcelain veneers. For example, they can be used to permanently conceal cracks, chips and gaps as porcelain veneers can. However, veneers made of composite may not last as long as their porcelain counterparts and are more vulnerable to cracking and discoloration. Fortunately, routine visits to our dentist provide opportunities for polishing, which help this type of veneers continue to look good.

How These Veneers Serve Patients
Patients who opt for veneers made of composite rather than porcelain can expect a variety of benefits related to their appearance. For example, heavy stains that are not resolved with whitening can usually be concealed with veneers made of composite material. Unsatisfactory tooth shape, rotation and spacing can also be addressed through this treatment. While veneers made of composite are not as durable as those made of porcelain, they also add strength to treated teeth, helping to prevent future breakage.


The cosmetic improvements composite veneers offer make them a valuable tool available to patients who want to look better and protect themselves against dental damage later. Although this type of veneers is not as strong as porcelain veneers, it is faster to place as well as more affordable and still offers considerable enhancement over several less intensive cosmetic procedures. With regular care, including daily brushing and flossing and biannual check-ups, these veneers can give patients up to eight years of brighter smiles and stronger teeth.