Am I a Candidate for Lumineers?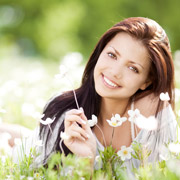 Lumineers have emerged as a popular alternative to conventional porcelain veneers for patients who want to permanently hide dental flaws without committing to irreversible alterations. For patients who are considering this treatment for themselves, here is a look at the answer to the question, "Am I a candidate for Lumineers?"

How Lumineers Offer Benefits
Lumineers resemble conventional veneers in their basic design as thin shells used to cover teeth, but they have been engineered to be thinner as well as more durable and natural looking. Because Lumineers are thinner, they require less preparation before placement and can be removed later if patients wish. However, this low profile also makes them less effective than thicker veneers at hiding more extensive stains. With proper care, including daily dental hygiene and regular visits to our dentist, Lumineers can last for as long as 15 years or more.

Candidacy Information for Veneers
Am I a candidate for Lumineers? If you are a candidate for traditional veneers, you can probably also receive Lumineers. Good dental health and lack of current need for restorative treatment are also marks of the best candidates. Finally, you should understand what Lumineers can and cannot accomplish for your smile.


The above information outlines basic candidacy requirements, but a visit to our dentist is necessary for a personalized answer to the question, "Am I a candidate for Lumineers?" At a consultation, you can also ask our dentist about treatment capabilities for addressing specific aesthetic concerns. If you are found to be eligible for Lumineers, you can help your new smile look good longer by avoiding excessively hard foods and heavily pigmented foods and drinks.