Am I a Candidate for Dental Bonding?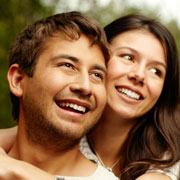 Dental bonding is the process of applying composite material to teeth and hardening it for concealment and repair. With such versatility, dental bonding is one of the most popular treatments used in cosmetic and restorative dentistry today. Here is more about this treatment and the answer to a common question: "Am I a candidate for dental bonding?"

Common Uses for Dental Bonding
In cosmetic dentistry, dental bonding is used to permanently conceal tooth chips, cracks and stains. For patients with internal tooth stains, bonding is often effective at eliminating signs of discoloration. Because the bonding adds strength to teeth, the procedure also has significant restorative value. As a fast and easy treatment, bonding is ideal for patients who would prefer to avoid more time-intensive options, such as veneers.

Candidacy for Dental Bonding
Am I a candidate for dental bonding? You are likely to be a candidate for this procedure if your oral health is generally good and you want to improve the appearance of teeth affected by stains, cracks, chips or improper size or shape. However, if you have larger cracks and chips, you may need more extensive care than what bonding can provide.


A consultation with our dentist can be scheduled to learn more about the answer to the question, "Am I a candidate for dental bonding?" If you do receive this treatment, you can continue to brush and floss daily and visit our dentist as often as recommended for check-ups to keep your bonded teeth looking good for longer.